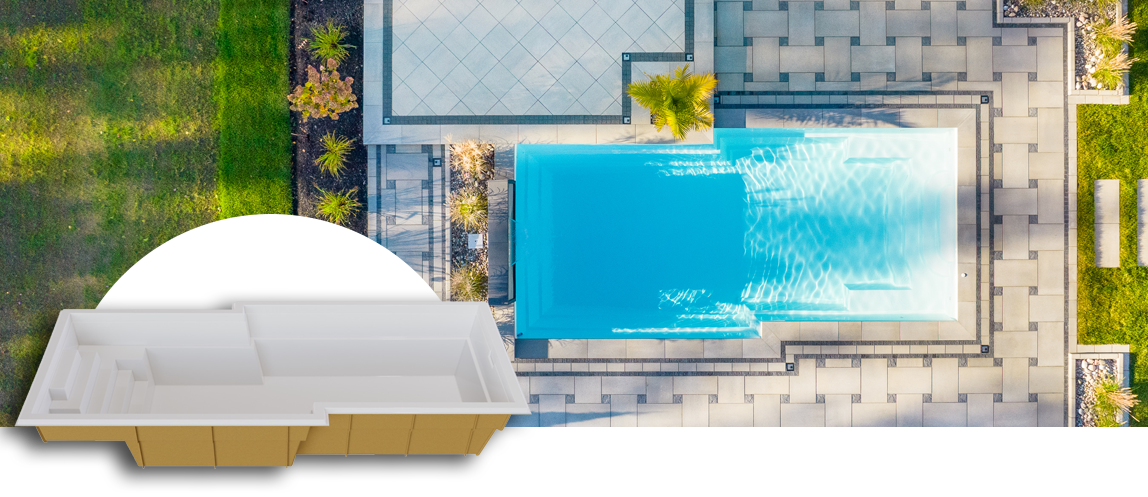 Are you interested in a fiberglass swimming pool delivered and installed in one day?
Inground fiberglass pools
Our fiberglass swimming pools can be installed in a few hours, heated, lighted, and salt water.
In addition to its quick installation, the fiberglass pool has many advantages. Thanks to its superior insulation, this type of pool allows warmer water. Our fiberglass pools also have an anti-overflow system, an anti-slip system for the steps and the top of the pool as well as 4 spa jets to circulate the water and offer a massage. Our fiberglass pools also have a reinforcing ember built into the pool. Their glossy fiber prevents algae from sticking in addition to allowing animals to bathe without the possibility of damaging the canvas. It is also a safe option since the border allows children to get out and to be able to hold on easily anywhere in the pool.
Finally, the manufacture of our fiberglass pools is 100% Quebec and comes with a 25-year warranty on the structure.
DISCOVER OUR FIBERGLASS POOL MODELS
Ottawa MODEL

Drummondville MODEL

Gatoneau MODEL

Granby MODEL

Kingston MODEL

Montréal MODEL

Québec MODEL

Toronto MODEL

Trois-riviere MODEL
THE INCLUSIONS OF OUR FIBERGLASS POOLS
Our basic fiberglass pool has several inclusions.
Polyurethane insulation
Factory pre-installed plumbing
100 feet of additional hoses
Maintenance kit
Geotextile membrane
Excavation template
Dewatering well
REQUEST FOR SUBMISSION